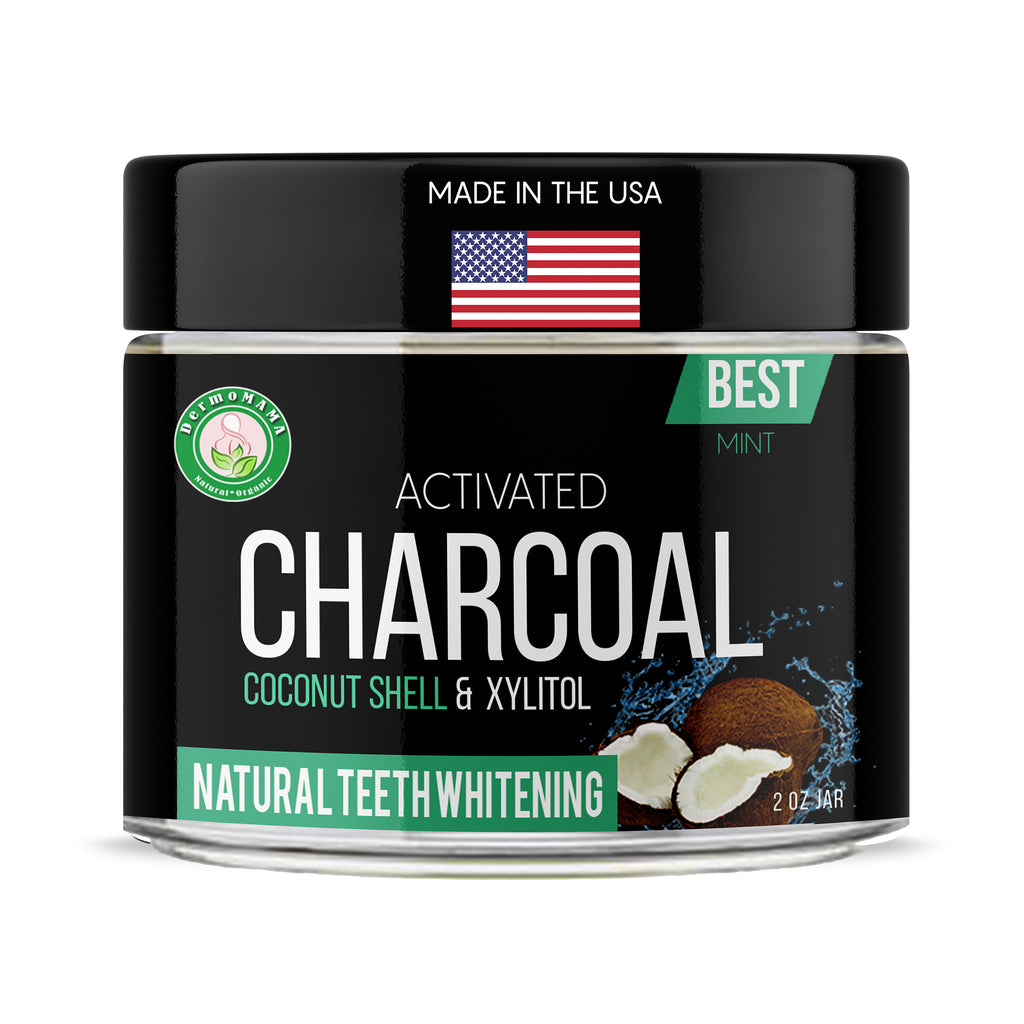 Dermomama's charcoal teeth whitening is odorless and tasteless. It naturally whitens teeth, polishes teeth, gets rid of stains, and detoxifies your mouth without any chemicals. All made with 100% Natural and Organic ingredients.
REGAIN YOUR LOST CONFIDENCE AND DAZZLE EVERYONE WITH YOUR SMILE – choose our premium activated charcoal teeth whitening powder to help whiten your teeth, remove stains and help you smile with confidence again!
WHITEN AND STRENGTHEN YOUR TEETH NATURALLY – our potent combination of activated charcoal and organic Xylitol will help balance your mouth's pH levels, promote gum health, support dental hygiene, remove coffee and wine stains and make sure that your teeth are bright and healthy again
FRESH MINT FLAVOR – leave your teeth, gums and mouth feeling refreshed and clean with our activated charcoal powder which contains coconut shell and Xylitol. Suitable for both men and women, it can eradicate bad breath, reduce gum problems and leave you with an irresistible smile
NATURAL AND ORGANIC INGREDIENTS – unlike other cheaply made charcoal teeth whitening powders that may contain harmful ingredients and have a terrible flavor, our coconut activated charcoal teeth strengthening powder is made in the USA under strict health and safety guidelines
100% HEALTHIER, WHITER AND STRONGER TEETH OR YOUR MONEY BACK – that's our iron-clad guarantee! You can try our natural teeth whitening powder for 30 days absolutely risk-free and if you're not 100% thrilled with the results, we promise to offer you a full refund, no questions asked!
AS EASY TO USE AS 1-2-3
• Make toothbrush slightly wet
• Remove excess water from brush
• Dip brush into the charcoal powder
• Brush teeth in small gentle circles, for 1-2 minutes
• Rinse mouth thoroughly to remove the charcoal, Spit directly into the drain while the tap water is on to keep the sink clean
 Here's How You Can Improve Your Dental Hygiene & Impress Everyone With Your Healthy & Radiant Smile Again!
Looking for a natural and healthy way to brighten your teeth? Need a safe and tested teeth whitening alternative to all those painful treatments? Want to support your teeth and gum health?